Home
Winget Bowls Club 1912 – 2021
The Bowling Club was started by the management of the Wagon Works under the title of Staff Bowling Association as a leisure activity for themselves and their families. The factory workers were not included. Although it had been established by 1910, as the fixture card below shows, it was not registered with England Bowls Club until 1912 when it was formed under a new constitution.
The current green was laid by Arthur Paish who was head groundsman to the Club for 30 years. The current home team changing room is a railway carriage built in 1914 and destined for South America. A very interesting story lies behind this.
By Armistice Day 11th November 1918, 821 workers from the Gloucester Railway and Carriage Works had died in the armed forces. As the Great War ended, the Government let the Company keep some of its profits to build a sports ground in Tuffley Avenue, it was later known as the Winget Ground and then as Tuffley Park as it is now known.
There is a clubhouse on this site now known as The Club (until recently known as The Wagon Works Sports & Social Club). It was formerly known as the Kitchener Pavilion after the illustrious General of the First World War when it was built and used as a ward of a local hospital nursing soldiers. It was purchased by the Company in 1918.
The Winget ground is where the Gloucester Cricket Festival was held from 1923 until 1992 and where the Bowls ground was laid and established.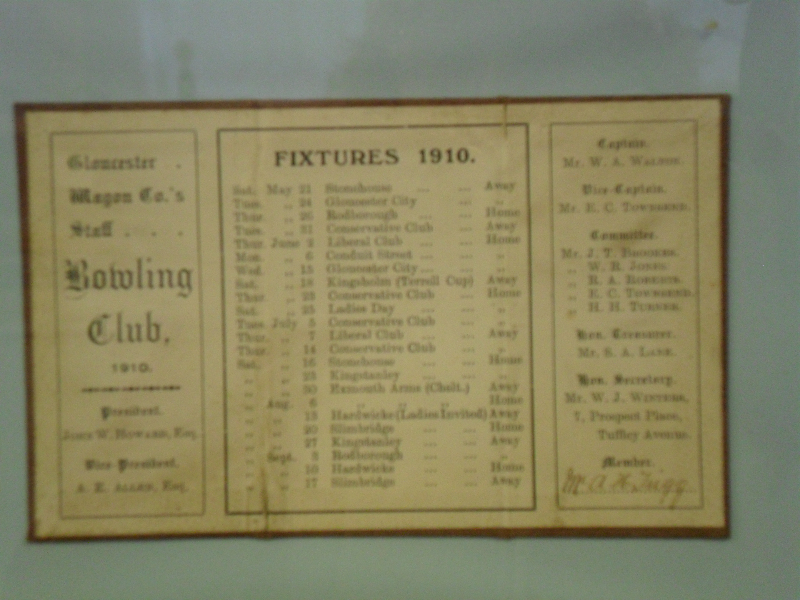 Winget Bowls Club is a friendly outdoor bowls club located in the Podsmead area of Gloucester and is surrounded by several other sports fields and facilities.
Our green is open from early April to mid September, and during this period we regularly play friendly matches both at home and away against other clubs in the surrounding areas. In addition to this we play in the Glevum League and also have club competitions.
Members are able to participate in National, County and City competitions if they choose to. We are a mixed Club and welcome new members regardless of experience or age.